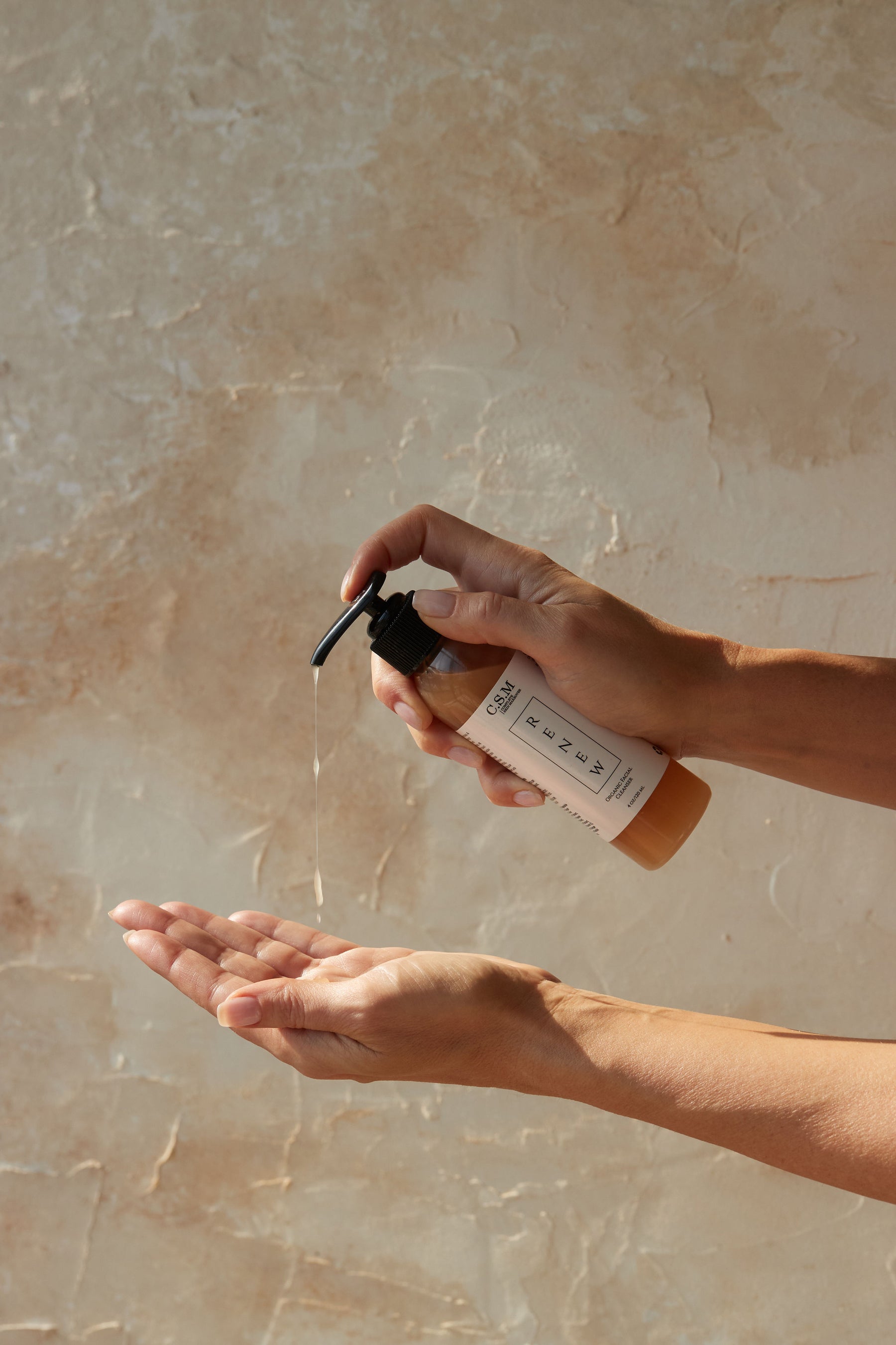 The Best Cleanser for Any Skin Type in 2023… Why Erinn loves the RENEW Cleanser!
The embarrassment of adult acne (before glowing, spotless skin).
If you've been in our community for any amount of time, you probably know how much we value your support—and how we truly want to help you feel good in your skin. That's why we often check in with our customers to see what's working, and how we can help more! We love these connections and hearing directly from you!
Recently, we chatted with Erinn (Lacey's sister) about her experience using CSM's products, specifically one of our faves: The RENEW Cleanser. Here's her story…
Erinn had combination skin growing up with both oily and dry patches. Her skin condition worsened when she became an adult, and she developed large cystic acne, mostly along her jawline. 
We asked her a little bit about her skin and how she felt about it before using CSM:
"I was so embarrassed by my acne and never wanted to leave the house without covering it up. And that's not a great feeling. I could try and hide it with makeup, but I knew it was still there. 
I remember one time in particular that really stands out to me. I was meeting my boyfriend's family for the first time, and it meant a lot to me. I wanted to make a great first impression. But I was mortified that my skin was going through such a bad breakout. So, I slathered on more makeup to help conceal the acne, but it wasn't a good solution." 
After years of trying every skincare product she should, she finally found CSM. Its natural, organic ingredients changed everything. 
Yay for a solution! What CSM product is Erinn obsessed with?
Erinn found CSM and is never turning back…
"The impact CSM products have had on my skin is amazing. My acne has disappeared since using CSM! The results have been such a drastic improvement—life-changing, really.
Emotionally, it's been a game-changer. My acne really affected how I felt about my appearance and how I showed up (or hid) each day. I had been so embarrassed by my acne that I never wanted to go out.  
Now, I don't have to hide under a ton of makeup and can run errands with a fresh face with just CSM products!"
Erinn is obsessed with the whole CSM line, but her #1 fave product is the RENEW Organic Facial Cleanser. She washes her face twice a day with this gentle, exfoliating cleanser. It's the simplicity of the formula and its effective way of balancing the skin that keeps her coming back. Plus, results!
"With daily use of the RENEW Organic Facial Cleanser, my skin has completely evened out. My extra oily spots and dry areas are no longer difficult to manage. My adult acne is not an issue today!
Bye-bye, acne-covering makeup (thanks to the best natural face wash for clear skin).
I feel like I've found gold! I love all the products because they are gentle on my skin and made with organic ingredients. Plus, they are clean and affordable. What's not to love?"
Let's dig in to see what the obsession is all about…
Your Ultimate Product Guide:
New year, elevated you—RENEW your natural beauty.
Want results like Erinn? 
Or dreaming of clear, glowing, vibrant-looking skin? 
Would you like to upgrade your facial cleanser and ditch the harsh, nasty chemicals?
We see you nodding, yes! 🙋‍♀️ Let's dig into Your Ultimate Product Guide for a skincare fresh start. 
What is RENEW? 
RENEW Organic Facial Cleanser is the foundation of a clean skincare routine. It's what you start and end your day with. 
This cleanser contains gentle ingredients and natural exfoliators to deeply clean your pores without stripping your skin of needed moisture. 
So what's inside CSM RENEW?
A powerhouse combination of naturally-derived ingredients comes together in this multi-benefit cleanser. The best natural face wash for acne (and all skin types!):
Lactic Acid 
Belongs to Alpha Hydroxy Acid (AHA) family, Lactic Acid increases cell turnover, eliminates dead skin cells, smooths and brightens appearance, reduces fine lines and wrinkles, and keeps your skin hydrated. 
Soapwort Extract 
Contains saponin, a naturally-foamy agent that gently removes makeup and impurities as it cleans your pores. Rich in antioxidants and antiseptic properties to combat acne and soothe irritated skin. 
White Willow Bark Extract
Considered a natural and gentle alternative to Salicylic Acid. It gently exfoliates the skin, calms redness and irritation, refines pores, reduces oiliness and signs of aging, and lock-ins moisture.  
Papaya Leaf Extract
The extract's natural enzymes gently exfoliate your skin while providing hydration to naturally retain needed moisture. This dual-action ingredient also evens skin tone and clears acne scars.  
Elderberry Extract 
A powerhouse ingredient that is rich in antioxidants, vitamins A, C, and E, and anti-inflammatory properties, protecting your skin from environmental damage.
Why does RENEW transform your skin?
A good facial cleanser should not only deep clean but also soothe and protect your skin. It should work for all skin types and be gentle enough to use daily. It's the go-to cleanser you'll stick with.
✨Removes dead cells and increases collagen production.
✨Reduces the appearance of fine lines and wrinkles.
✨Minimizes acne scars through deep hydration and free-radical-fighting antioxidants.
Make it a complete routine—products that pair well!
Complete your minimalist CSM experience with these clean products:
CSM Rose Aloe Witch: This alcohol-free, antioxidant-rich beauty elixir gives your skin its daily dose of vitamins and hydration with witch hazel, aloe vera, seaweed, and Irish moss. Balances pH levels while reducing redness and inflammation. The toner your skin will love. 
CSM Reverse: The most advanced hyaluronic acid and collagen serum with Matrixyl 3000 and Argireline. It diminishes fine lines around the mouth, eyes, and forehead. Treat yourself to smoother, more radiant skin.
CSM Rich: An organic hydrating moisturizer that gives your skin the glow it craves. Made with shea and mango butter, avocado oil, aloe, lavender, and green tea to keep your skin healthy and hydrated all day and night. Wake up looking like you didn't just wake up.
CSM Konjac Sponges: Premium-activated bamboo charcoal helps cleanse pores and removes impurities. These exfoliating facial sponges will be the secret step in your routine for total transformation. Indulge in clearer skin.
You deserve to have products that you can actually trust.💓 Are you ready for your skin transformation?