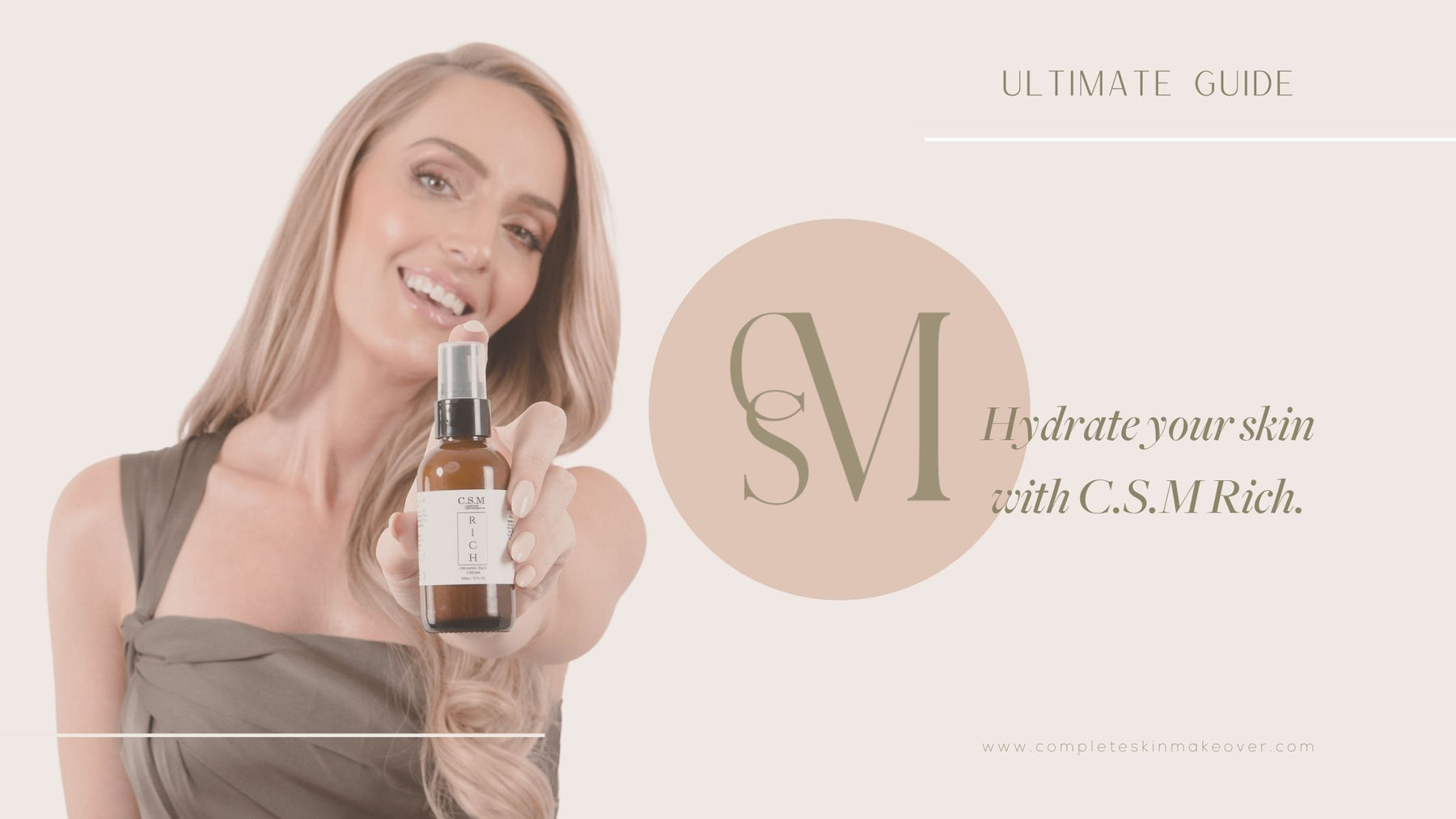 CSM Ultimate Product Guide: Rich
Age does not matter with dry skin. Regardless of age, you can have dry skin. Dry skin is a skin condition associated with a damaged skin barrier. 
Some factors cause dry skin, but the most common is your lifestyle. When your skin is dry, it can trigger skin conditions like eczema. And when this happens, it can seriously affect your day-to-day life. 
If we think of dry skin, we automatically associate it with moisturizer. And because dry skin is prevalent, the available moisturizers in the market are way too many it is overwhelming. 
So to help you choose the right product, it is important to know your skin type first. We advise that you get a moisturizer that is gentle, but does its job well. Look for moisturizers that have powerful ingredients like ceramides and panthenol. 
We have it in CSM Rich plus more natural hydrating ingredients! Read on to know more about our organic hydrating face cream. 
WHAT'S IN THE GUIDE
What is CSM Rich

The Benefits of CSM Rich

How To Use CSM Rich

Who Can Use CSM Rich

Best Paired CSM Products For CSM Rich

Where To Buy CSM Rich
WHAT IS C.S.M RICH
CSM Rich is an organic face cream that is rich in natural ingredients. It is a hydrating moisturizer that is best for daily use. It is moisturizing enough for overnight healing but light enough for daytime use under your makeup. 
CSM Rich is also an anti-aging face cream. It contains natural ingredients that fight common signs of aging like wrinkles and hyperpigmentation. 
Age doesn't matter with this product, too. If you are in your twenties (which we believe is the best time to start your anti-aging beauty rituals) or in your sixties, CSM Rich is your go-to face creams for skin protection and hydration. 
POWERHOUSE INGREDIENTS THAT HYDRATE AND PROTECT YOUR SKIN
The combination of shea and mango butter in one product is pretty heavenly! Both the scent and its wonderful benefits. These butter are emollients and are rich in vitamins and minerals. Deeply hydrates the skin while giving extra protection from possible sun damage! 
Aloe Vera & Avocado Extract
We love Aloe Vera extract too much! It does not only moisturize your skin well, but it also protects your skin from acne-causing bacteria. We have it in C.S.M Rich because of its hydrating and healing properties. The same with Avocado extract! It is rich in good fats, vitamins, and minerals. It deeply moisturizes while protecting the skin from free radicals. It can minimize inflammation, too!
Lacto-ceramide & Panthenol
Lacto-ceramide is from naturally derived ceramide and milk lipids. It fortifies the skin barrier by locking in the moisture. On the other hand, panthenol (Pro-vitamin B5) in moisturizers keeps the skin soft, smooth, and healthy. 
THE BENEFITS OF CSM RICH
It deeply hydrates the skin.
CSM Rich contains powerful ingredients that lock in the nutrients and moisture that your skin needs. But despite the abundance of these wonderful ingredients, CSM Rich remains light and non-greasy. 
It reduces signs of aging. 
CSM Rich has anti-inflammatory and antioxidants that reduce signs of aging like fine lines, wrinkles, sun damage, and discoloration. And it gives your skin a smooth and supple finish every after application. 
It protects your skin from free radicals. 
CSM Rich has natural ingredients that protect your skin from sun damage, free radicals, and bacteria! It keeps your skin protected while it is healing. 
HOW TO USE CSM RICH
CSM Rich is a day & night face cream. Pump enough product and apply it on your skin after applying your serums. Let it be absorbed completely before you apply your makeup! 
WHO CAN USE CSM RICH
Our organic face cream is formulated for both men and women. Perfect for sensitive, dry, oily, normal, or combination skin types.
BEST PAIRED CSM PRODUCTS FOR CSM RICH
CSM Rose Aloe Witch

.

 A toner with triple power benefits of Rosewater, Aloe Vera, and Witch Hazel. It's organic, toxin-free, alcohol-free, and paraben-free. The toner your skin will love. 

CSM Reverse

. 

The most advanced hyaluronic acid and collagen serum with Matrixyl 3000 and Argireline. Reduces fine lines and sun damage. Your very own botox-in-a-bottle. 

CSM Renew.

 A gentle yet potent organic facial cleanser that is rich in antioxidants and anti-inflammatory properties. Cleanses and removes skin impurities. 
WHERE TO BUY CSM RICH
You can have your favorite CSM Rich on our website or you can purchase it on our Amazon shop.