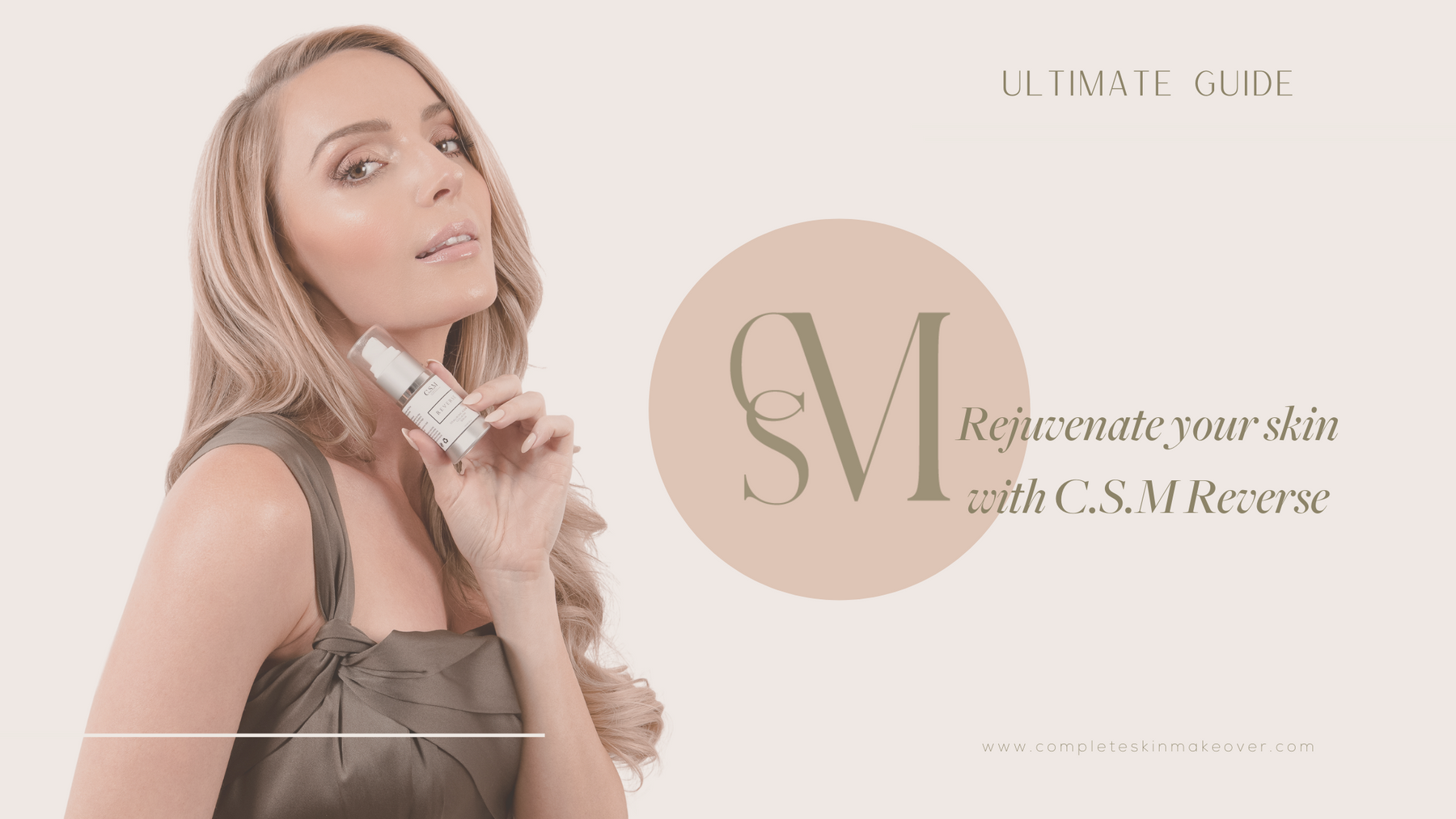 C.S.M Ultimate Product Guide: Reverse
Wrinkles are normal and inevitable, but the visibility of wrinkles increases because of factors like sun damage, vices, and lifestyle. 
Although there are many anti-wrinkle products in the market you can choose, sometimes it is confusing and overwhelming. 
We often ask ourselves, "Will this finally work?"
It is ideal to try different products to test their potency and skin compatibility, but sometimes we do not have the means to try them all. 
So, how will you know what is best for you without spending too much? 
Look for a product with active ingredients like Argireline, Matrixyl 3000, Syn-ake Peptide, Tripeptide-5, and Syn-Tacks. These peptides are collagen boosters, anti-aging, anti-wrinkle, and can improve overall skin health.  
And our C.S.M Reverse contains all of these active ingredients. This article will guide you on its uses, ingredients, benefits, and more. 
WHAT'S IN THE GUIDE
What is C.S.M Reverse

The Benefits of C.S.M Reverse

How To Use C.S.M Reverse

Who Can Use C.S.M Reverse

Best Paired C.S.M Products For C.S.M Reverse

Where To Buy C.S.M Reverse
WHAT IS C.S.M REVERSE
C.S.M Reverse is your botox-in-a-bottle. 
It is a hyaluronic acid collagen serum with Argireline, Matrixyl 3000, Syn-ake Peptide, and Tripeptide-5 that is compatible with all skin types. 
It is a complete face serum that is light enough to be applied as an eye cream, yet a potent anti-aging serum and a collagen booster rolled in one bottle! 
Moreover, it contains powerful extracts from natural ingredients that keep your skin deeply hydrated. 
It is also rich in antioxidants and anti-inflammatory natural ingredients that protect your skin from free radicals. 
Keep your skin hydrated, healed, and protected with C.S.M Reverse. 
POWERHOUSE ANTI-AGING INGREDIENTS THAT BOOST COLLAGEN 
Argireline is a short-chained peptide that is known for its anti-wrinkle properties. Argireline is a substrate of botulinum toxin or what we commonly know as botox. But unlike the injectable Botox, Argireline can be applied topically. This potent peptide decreases muscle movements which cause wrinkles. Argireline also helps collagen production.
Matrixyl 3000 is another short-chained peptide manufactured in France. It is a combination of two matrikine peptides (palmitoyl tripeptide-1 and palmitoyl tetrapeptide-7), which restore and maintain youthful skin. It motions to the cell to produce more collagen. And Matrixyl 3000 is both an anti-aging and anti-wrinkle cosmetic ingredient. 
The Syn-ake peptide is an anti-wrinkle peptide that mimics the paralyzing effect of Temple Viper venom on the muscles. It relaxes muscle movements that help control the development of fine lines and wrinkles. It is not from the snake's venom, but the venom's chemical structure is modeled to create a Syn-ake peptide.
Tripeptide-5 is another peptide that is known for its anti-aging properties. This peptide promotes the production of collagen and healthy cell functioning. And because of this, it improves the overall skin condition. 
Syn-Tacks is a combination of two synthetic peptides that supports and stimulates collagen production. It improves skin firmness and cellular cohesion which are important to maintain youthful skin. 
THE BENEFITS OF C.S.M REVERSE
Prevent premature aging, reduce fine lines and wrinkles, protect your skin from harmful free radicals with C.S.M Reverse. It reverses skin imperfections and damages in just a few weeks of consistent use. 
Deeply heals the skin from long-time damage caused by UV rays, free radicals, and chemicals. It renews cells, improves skin firmness, supports cell cohesion, and boosts collagen production. These are important factors that keep the skin healthy and strong. 
Fast-absorbing collagen serum that hydrates the skin. It holds moisture and nutrients that your skin needs. It is light and non-greasy, leaving your skin a soft and smooth complexion every after use. 
HOW TO USE C.S.M REVERSE
After cleansing and toning, rejuvenate your skin using C.S.M Reverse. Pump 2-3 drops of this powerful serum and lather it on the area you want to cover. Gently pat for better absorption. Make sure to top it with a moisturizer to lock in the nutrients. 
WHO CAN USE C.S.M REVERSE
Our anti-aging collagen serum is formulated for both men and women. Perfect for sensitive, dry, oily, normal, or combination skin types.
BEST PAIRED C.S.M PRODUCTS FOR C.S.M REVERSE
C.S.M Renew. A gentle yet potent organic facial cleanser that is rich in antioxidants and anti-inflammatory properties. Cleanses and removes skin impurities. 
C.S.M Rose Aloe Witch.

 A toner with triple power benefits of Rosewater, Aloe Vera, and Witch Hazel. It's organic, toxin-free, alcohol-free, and paraben-free. The toner your skin will love. 

C.S.M Rich. An organic face cream that is rich in natural ingredients. It is a hydrating moisturizer best for daily use -- moisturizing enough for overnight use to heal rough and dry skin, but light enough for daytime use under your makeup. 
WHERE TO BUY C.S.M REVERSE
You can purchase your favorite C.S.M Reverse at our website or you can purchase it at our Amazon shop. 
OUR MISSION
Complete Skin Makeover advocates a clean and holistic yet luxury skincare approach. Most of our products are made of natural and organic ingredients that are ethically sourced out in the US. 
We are on a journey to educate women in choosing the right products for their skin because they deserve nothing but the best quality ingredients. Knowing what you put in your skin is an integral part of keeping your skin healthy and strong. And having healthy skin is the foundation of a beautiful aging journey.