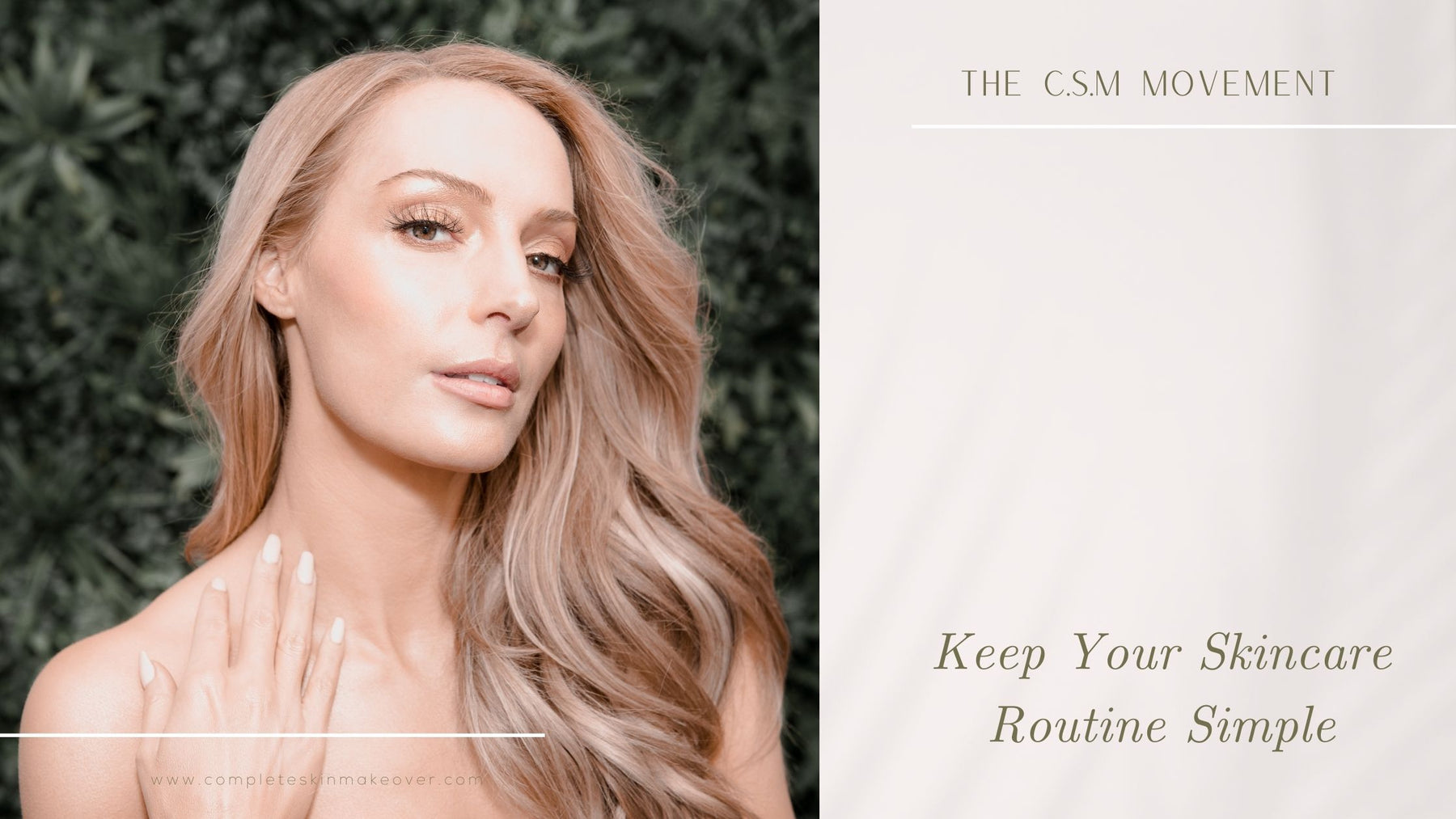 The Basics For Your Skinimalism Routine
These days, it is not uncommon to see ten or even twelve-step routines.
Famous Korean and Japanese influencers have popularized these skincare trends. The Korean glow is particularly sought after.
But the main problem is, it requires a serious time commitment. Not all have the luxury of time.
And let's be honest, we love shortcuts. More often than not, we skip some of these steps because it's too many!
Now here come's skinimalism.
Skinimalism is as it sounds: a minimalist skincare approach. But skinimalism is more than an approach.
Skinimalism is a move forward in embracing your natural skin. Accepting all its perfect imperfections but taking care of it in the best way.
It is highly recommended to have a simple skincare routine. By simple it means, using essentials that address your skin problems.
In this way, you will be using fewer products that might trigger more problems in the future.
And now you ask, what are even the basics? Here is your guide to four simple skincare routine steps the C.S.M way - the best for beginners or skinimalists.
The 4-Step Complete Skin Makeover Routine You Only Need
Step 1: Cleanse
Cleansing is an essential step in your skincare routine. Cleansing removes unwanted dirt and makeup residue that may block your pores. It is so essential that you can't skip it. Never.
In choosing your cleansers, the most important thing to consider is your skin type.
If you have acne-prone skin, use facial cleansers with exfoliating ingredients. You may check ingredients like glycolic acid, salicylic acid, or alpha hydroxy acids.
If you have sensitive skin, use cleansers with a creamy texture. Also, check cleansers if it have calming ingredients like aloe vera.
If you have dry skin, use facial cleansers that hydrate your skin.
But in general, use a facial cleanser that is pore non-clogging, gentle, and hydrating.
Cleanse with C.S.M Renew Organic Facial Cleanser
Our C.S.M Renew Organic Facial Cleanser is best for normal to sensitive skin. It has natural ingredients and lactic acid that promises gentle exfoliation and hydrating. You may use C.S.M Renew with C.S.M Konjac Sponges for a deep clean.
Gentle exfoliation, non-clogging, and hydrating - it will renew your skin!
Read C.S.M Ultimate Product Guide: Renew for a more detailed guide. 
Step 2: Prep
We often use toners as a double cleanser. Toners can remove remaining makeup residue that your facial cleansers can't. But aside from that, toners are essential to prepare or set your skin to absorb other products.
Some of us often think that toners are useless or harmful. Thus, we skip them. We can't blame you. Most of the toners have a high alcohol content that dries out your skin and irritates it.
But not all toners. There are alcohol-free toners available in the market that hydrates your skin. There are toners that restore skin nutrients removed from cleansing.
Prep with C.S.M Rose Aloe Witch Organic Facial Toner
Our C.S.M Rose Aloe Witch is an organic facial toner that is paraben and phosphate-free. It contains Rose Water and Aloe Vera for an anti-oxidant boost and protects your skin from toxins. Witch hazel tightens the pores and prevents breakouts.
It leaves a hydrated and even skin tone because of Vitamins A, B, C, D, and E content. And it has natural ingredients that maintain the pH level of your skin.
Read C.S.M Ultimate Product Guide: Rose Aloe Witch for a more detailed guide.
Step 3: Rejuvenate
We get harmful toxins every day, and that's inevitable. And our skin, as the largest organ in our body, is the most susceptible of all these toxins. Our skin protects us from all harmful substances, making it the first line of defense. With this, it is also unavoidable that our protective barrier declines as we age.
So to help our skin, it is important to rejuvenate on a regular basis. Although cleansing and toning help, it does not repair our skin.
Rejuvenating your skin with serums helps maintain skin elasticity and boosts collagen production. Concentrated serums penetrate the skin well.
Rejuvenate with C.S.M Reverse Hyaluronic Acid and Collagen Serum
Our C.S.M Reverse Hyaluronic Acid & Collagen Serum is best for all skin types. It is also an Argireline eye cream with Matrixyl 300 plus more active peptides. These active peptides help boost collagen production.
Additionally, its natural ingredients moisturize your skin. It also contains anti-inflammatory enzymes that soothe dry and sensitive skin. The bonus part is it reduces wrinkles and fine lines, too!
Read C.S.M Ultimate Product Guide: Reverse for a more detailed guide.
Step 4: Moisturize
"Moisturize, moisturize, moisturize!"
You've heard this a lot of times from your dermatologists or even from skincare ads. And this isn't a gimmick! Moisturizing your skin should be an essential part of your beauty regimen. It helps your skin big time.
Our body produces natural oils that keep our skin soft, hydrated, and healthy. But, showering and cleansing strips down some of these natural oils. So to replenish these oils, moisturizers, or creams, or lotions will help you with that.
But not all moisturizers are helpful. It is still vital to choose moisturizers that fit your skin type. In general, choose moisturizers with Vitamins A, B5, C, and E to achieve the best result. And avoid comedogenic (pore-clogging), ingredients you are allergic to, and dermatologically unapproved products.
Moisturize with C.S.M Rich Organic Face Cream
Our C.S.M Rich is an organic face cream with active natural ingredients. It is a deep-nourishing light cream that improves your skin's health and complexion. Our face cream is versatile in which you can use during the day and nighttime. It is also quick drying and oil-free!
Read C.S.M Ultimate Product Guide: Rich for a more detailed guide.
More Tip: Sunscreen
Excessive ultraviolet light exposure is one of the biggest culprits of premature skin aging. and other serious skin concerns. Most of us do not live our lives in sync with the sun. We have a bad habit of staying out of the sun for weeks, especially when at work. And then, we decide to book a trip to the beach for a sunbath. It is a common scenario and the fastest way to get sunburn!
The best approach is to build up the amount of time your skin can safely be in the sun. Start with 5 minutes for a few days in a row, then move up to 10 minutes, then 15, and so on. Over time you can enjoy the sun without getting burns easily.
But, if you do have to go out in the sun for a long period of time, and you have not been out in a while, definitely wear an SPF to help reduce the ultraviolet burden.
Skinimalism is another example of getting back to our roots. Although it is predicted to be one of the biggest upcoming latest skincare trends this year, in reality, it is just getting back to ancient practice. We all started from the "less is more skincare" routine.
Bombarded with persuasive commercials and paid influencers, we are neglecting the needs of our skin. We are neglectful because we want to join the bandwagon. We want to be part of the trend.
But here in C.S.M, we will keep advocating the importance of prioritizing your skin's essential needs over mere trends. We will continue to provide a complete skin makeover experience the natural way!